The new Nokia 9210 Communicator
...looks like the essential gizmo for people who want the latest in PDAs and mobile phone technology. It's predecessor, the 9110, was pretty cool but this one's now got colour, high speed modem and a new user interface. For more information, check out the Nokia website
We're just waiting to find out what the UK prices will be....

---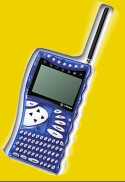 The Cybiko
Forget 007 and the Cold War, exploding pens and bugging devices. The latest device to surface from the USSR is a personal organiser with just about every feature you could want. It's more than just an organiser though, as this handheld gizmo not only contains a wireless communicator, email machine, organiser and scientific calculator, it also plays games, contains a spellchecker, dictionary and even a multilingual phrasebook. As if that's not enough, it will play MP3s and receive FM radio.
Sounds interesting?? Well the price tag of only $99.95 (yes, under 100 dollars) may well make you look twice!! For more information, check out the Cybiko website